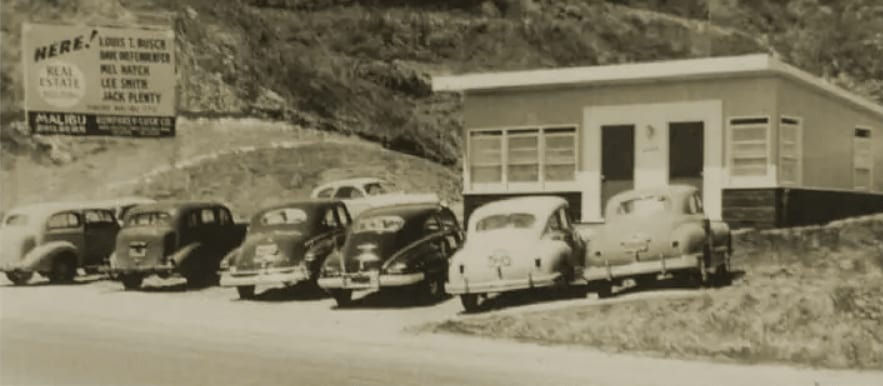 Founding MemberLouis T. Busch's Office in 1947 on Malibu Road where Ralph's Market is Currently Located
About Louis T. Busch, Founder
Longtime Malibu local and real estate pioneer Louis T. Busch died on Tuesday, June 9. He was 90.
Born Sept. 29, 1924 in Santa Monica, Busch graduated from Fairfax High School before volunteering for the U.S. Navy at age 18. He served his country on a PB4Y Privateer (Patrol Bombing Squadron 121) as a bombardier navigator, receiving three Air Medals for courageous acts.
After his return from the Pacific front, Busch followed the example of his father and entered the real estate business. He established Louis T. Busch Associates, and in 1949 built the office at 22253 Pacific Coast Hwy., where he worked daily for more than 65 years, interspersed with cruises and travels all over the world with his family.
During the early '50s, Busch met his wife Doris. They married Dec. 3, 1954 and celebrated their 60th wedding anniversary last year.
As a founding member of the Malibu Board of Realtors, Busch served the profession as Board President and as a Director of the California Association of Realtors. Many tracts and developments in Malibu are a direct result of Busch's initiatives and involvement.
"Busch was always busy in the real estate business he loved," a loved one shared. "The company logo being 'We know the Malibu' - and Busch most certainly did. He was a friend to everyone who accepted his unconditional offer of friendship and will be greatly missed."
Busch was predeceased by son Ted and daughter Bonnie and is survived by wife Doris; daughter Amarie and husband Des Coyle; grandson Garrett Derevjanik; and longtime associate and close friend Ann Rudy Thomas.